Box Office Results: Hunger Games Prequel Rises to the Top as Marvels Sinks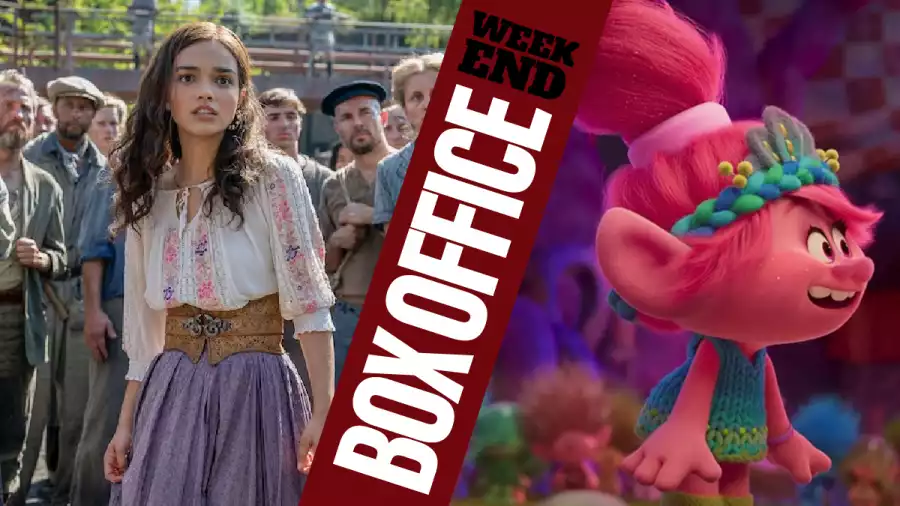 There are plenty of pros and cons at the box office this week. We'll start with the good news. The Hunger Games prequel, The Ballad of Songbirds & Snakes, opened with a decent but not spectacular $44 million, enough to propel the Francis Lawrence-directed pic to No. 1 domestically, per Deadline.
Internationally, Songbirds collected $54.5M, bringing in $98.5M globally—not exactly a home run for a potential franchise re-starter, but also not terrible for a pic that cost $100M to produce. Deadline believes the writer's strike played a significant factor in the lower-than-expected opening and notes the franchise's hopes hinge on foreign sales. There's also hope that the holidays (and meager competition) will afford this flick solid legs, so we'll have to wait and see how the final numbers look.
Trolls Band Together also hit theaters and earned $30.6M, less than the $46.6M earned by the original Trolls in 2016, but considering Trolls: World Tour opened on PVOD during the pandemic, this is a solid start for Universal's franchise.
More significantly, the trade notes that Trolls opened less than a week before Disney's Wish, which seems foolhardy. "No," says one rival studio exec, "If this was seven years ago, you'd have to worry about Disney. But with their brand rusting, you don't need to worry about them anymore." Yikes.
Speaking of which, The Marvels fell hard in its second weekend, dipping -78% (the second biggest drop for the studio) and earning $10.2M. The superhero feature has collected a meager $65M domestically and $161M worldwide.
Elsewhere, Eli Roth's Thanksgiving hauled in $10.2M thanks to positive reviews, while Searchlight's Next Goal Wins (from Taika Waititi) claimed sixth place with $2.5M.
DOMESTIC TOP 1
1.) Hunger Games: Ballad of Songbirds & Snakes (LG) 3,776 theaters Fri $19.1M Sat $15M Sun $9.9M 3-day $44M/Wk 1
2.) Trolls Band Together (Uni/DWA) 3,870 theaters4 Fri $9.35M Sat $12.2M Sun $8.97M 3-day $30.6M/Total $31.7M
3.) The Marvels (Dis) 4,030 theaters Fri $2.8M Sat $4.4M Sun $3M 3-day $10.2M (-78%) Total $65M/Wk 2
4.) Thanksgiving (Sony) 3,204 theaters, Fri $3.8M Sat $3.86M Sun $2.5M 3-day $10.2M/Wk 1
5.) Five Nights at Freddy's (Uni) 2,829 (-865) theaters, Fri $940K Sat $1.57M Sun $990K 3-day $3.5M (-61%), Total $132.6M/Wk 4
6.) The Holdovers (Foc) 1478 (+700) theaters Fri $800K Sat $1.1M Sun $780K/3-day $2.7M (-16%), Total $8.35M/Wk 4
7.) Next Goal Wins (Sea) 2,240 theaters Fri $1.1M Sat $822K Sun $578K 3-day $2.5M/Wk 1
8.) Taylor Swift: Eras Tour (AMC) 1,573 (-1275) theaters, Fri $655K Sat $1M Sun $745K 3-day $2.4M (-61%)/Total $175.3M/ Wk 6
9.) Priscilla (A24) 1,802 (-559) theaters, Fri $731K Sat $922K Sun $673K 3-day$2.32M (-50%), Total $16.98M/Wk 4
10.) Killers of the Flower Moon (Apple/Par) 1,714 (-1,643) theaters Fri $530K Sat $840K Sun $550K 3-day $1.92M (-58%)/Total $63.5M/Wk 5